The Cade Saga or Cade Trilogy is the fourth saga and the third trilogy of the Edge Chronicles. The Immortals was supposed to be the last book of the Edge Chronicles, but then the authors Paul Stewart and Chris Riddell decided to continue with the blog Weird New Worlds from 2009 to 2011. The plot ideas and some characters like Hedgethorn Lammergyre and Forden Drew were taken and made into the Cade Saga. The first book, The Nameless One was published in 2014, the last one, The Descenders in mid 2019. The Cade Saga is set in the Third Age Of Flight.
Books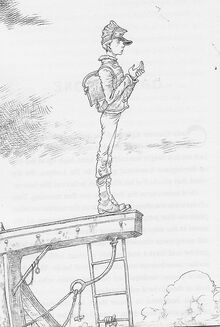 The Cade Saga features:
Plot
The story is set just a few years after the events of the The Immortals. Nate Quarter comes back from descending, which is now considered heresy. The young Cade Quarter has to flee Great Glade, persecuted by the High Professor of Flight Quove Lentis and begins a new life on the Farrow Ridges where many adventures await him and his new friends.