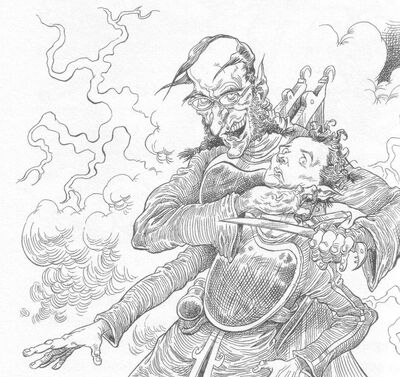 The Stormchaser Mutiny was a battle that took place during the events of Stormchaser. Aboard the sky ship Stormchaser, Slyvo Spleethe, a mutinous quartermaster, attempted to overthrow Cloud Wolf with the help of Mugbutt, a flathead goblin that was part of the crew.
When Cloud Wolf was asked to stormchase, he decided to leave Twig in Undertown with Mother Horsefeather.
Slyvo Spleethe discovered that Twig was Cloud Wolf's son (the captain had kept that a secret to protect Twig). Spleethe smuggled Twig into the Stormchaser knowing that Twig wanted to join the adventure. Kept deep down the ship, Twig found out about the mutiny and fooled Mugbutt. However Spleethe got Twig before he could talk to his father, and threatened him with a knife forcing Twig to watch the fight between his father and Mugbutt. Yet, the crew didn't notice the mutiny since they were busy keeping the sky ship in the air.
Cloud Wolf defeated Mugbutt with the help of Hubble, turning then to Spleethe but stopping in astonishment to see Twig in Spleethe's hands. The quartermaster ordered him to release the sword, or his son would pay. Twig pleaded for Cloud Wolf not to do this for him, but Cloud Wolf didn't listen to him and got disarmed. Spleethe pushed Twig away and started a mortal fight with Cloud Wolf, who ended up with a large wound on his sword arm. Hubble killed Spleethe and Cloud Wolf decapitated Mugbutt before the crew finally noticed something was wrong. The Stormchaser spun out of control, forcing the crew to abandon ship, while Cloud Wolf stayed aboard to try to complete the stormchasing quest they had set off on, handing over his sword to Twig, who refused to abandon him, but ended up jumping for his life.