Use this page to discuss design and content changes to the Main Page. For general wiki discussion, please visit the Community Portal.
---
PERSONALISED SKIN?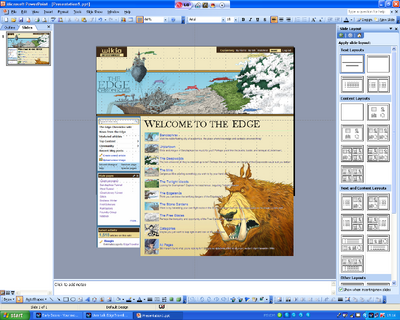 Hi Guys. What does anyone think of doing a personalised skin for this wiki? I know it is a bit rough but here is a knock up of my own design. I reckon something like this is doable looking at the .ccs codes from the other wikia pages.
Captaintwig
18:22, April 23, 2010 (UTC)
personalised skin
I think that skin is wicked
I agree, great looking skin

Chonaic17

21:17, October 22, 2010 (UTC)
I hate to have to say this, but I don't think this will work as Wikia are phasing out the Monacco skin choice. Oasis (the new skin) will be the defualt view, and, under the new terms & conditions, this is not changeable even by admins. And Oasis is pretty rubbish.-- AM666999talk 23:34, October 22, 2010 (UTC)
yeah the old skin was much better and left more room for change, this skin makes things a little more awkward

Chonaic17

20:18, October 26, 2010 (UTC)
Hello
You knot the top bar thing where you can select wiki activity and what not? Is there a way to editi it so that it shows a book list or character list or something like on other wikis? IAmStarMarked (talk) 17:55, November 5, 2012 (UTC)
Minor Spelling Mistake --- gulp!
Hey sky pirates, academics, librarians/ librarian knights, banderbears, academics-at-arms, Free Glade Lancers, waifs, cloddertrogs, fourthlings, goblins and all other Edge inhabitants,
As I'm new here, I don't know who created this (exceptional, by the way) wikia, and where I should say this, considering it's a very minor mistake, but in the welcome box it says:
'.. all other forms of English are excepted elsewhere. . .' 
excepted is a synonym for accepted, which is the correct word to use. Sorry about this, but as a pedant and a rabid EC fan, it's distressing coming to my favourite website and seeing a spelling mistake immediately! Moonlight Lancer (talk) 16:51, April 2, 2014 (UTC)                                                                                           
Is Weird New Worlds non canon? Several characters in The Cade Trilogy's The Nameless One mirrored those in Weird New World such as Thorne Lammergyre replacing Hedgethorne and Celestia replacing Alcestia, along with several others, Freelance549 (talk) 02:40, June 29, 2014 (UTC)
Please don't capitalize banderbear! It stresses me out thanks people Hary Pooter (talk) 19:49, January 24, 2016 (UTC)
Stubs
Stub
Could we add some sort of box for the stub articles, just so that you know where to get started. A stub is an article that really needs further information, but you didn't have the time or knowledge to do it properly. An article can be marked a stub by categorising it as 'article stub'. So, some sort of box on the main page would help. Is there anyone who disagrees, otherwise I would just add such a thing?
Gloamglozer (talk) 21:35, October 1, 2016 (UTC)Gloamglozer