Thadeus Quarter was a celebrated Great Glade academic, husband of Sensa Quarter and father of Cade.
Life
Thadeus Quarter was an extremely talented phraxengineer. He was married to Sensa Quarter, a woman he loved very dearly for her good heart. She died when Cade was three years old, leaving Thadeus to be a loving and caring father to Cade. Thadeus was in opposition to Quove Lentis and in favour of descending. Because Nate Quarter, the famous descender was Thadeus's half-brother, he had to live in fear of the High Professor of Flight. Knowing Lentis was after him, he sent Cade to his friend Lembit Flodd and gave him four barkscrolls containing calculations that could make new technologies and the Fourth Age of Flight possible.
Influence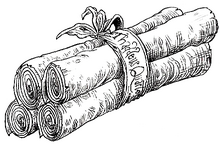 The barkscrolls Thadeus gave Cade contained information about a new use of Stormphrax. Thorne Lammergyre built a model based on the calculations, equations and diagrams the scrolls contained.