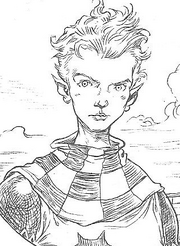 The Blooding of Rufus Filantine
was a short story about
Rufus Filatine
,
Xanth
's son and the invention that led to the
Third Age of Flight
.
Editions
It was first published as the fourth barkscroll of The Lost Barkscrolls. In the Jeff Nentrup editions of the Edge Chronicles, The Lost Barkscrolls was no longer included as a standalone book but rather split on multiple books. The Blooding of Rufus Filatine is now at the end of Freeglader, where it fits chronologically.
Plot
It was a story about Rufus Filatine, the son of Xanth Filatine, and his adventures as a Freeglade Lancer. It described how his adventures culminated in a great battle against the Phrax Glade, and how the Phraxfire Globes ultimately inspired Xanth to invent Phraxflight.