WARNING!

This article contains information from The Descenders. As such, it will contain spoilers. Proceed with caution.
This page is a timeline of the major events of the Edge Chronicles. For the purpose of this page, Edge Years (ᴇ.ʏ.) will be used, however, it was never shown whether the inhabitants of the Edgeworld actually used this system. Edge Years are counted from the birth of Quintinius Verginix, so 1 ᴇ.ʏ. is the first year after Quint's birth.
Visual timeline of the Quint, Twig and Rook sagas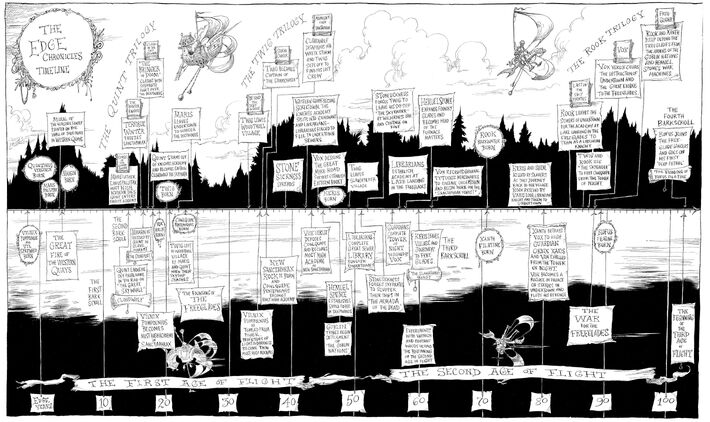 Click a box on the timeline to be taken to its Edge Chronicles Wiki page.
Reference to Edgeworld stories by time period
Timeline of major events in the Edge Chronicles
Prehistory
References
↑ 2.0 2.1 2.2 The Immortals, Chapter 100
↑ Clash of the Sky Galleons, Chapter 2: Glaviel Glynte
↑

The Mother Storm returns to the Edge roughly every five thousand years.

↑ 5.0 5.1 5.2 5.3 Midnight Over Sanctaphrax, Chapter 11: The Western Quays
↑ Midnight Over Sanctaphrax, Introduction
↑ 9.0 9.1 9.2 The Curse of the Gloamglozer, Chapter 1: The Palace of Shadows
↑ Clash of the Sky Galleons, Chapter 3: Turbot Smeal
↑ Cloud Wolf, Chapter 1: Wilderness Lair
↑ The Curse of the Gloamglozer, Chapter 22: Revenge
↑ The Winter Knights, Chapter 2: The Chorus of the Dead
↑ The Winter Knights, Chapter 1: The School of Colour and Light Studies
↑ The Winter Knights, Chapter 22: The Ratbird
↑ The Winter Knights, Chapter 18: The Barkscrolls
↑ The Winter Knights, Chapter 3: The Knife-Grinder
↑ The Winter Knights, Chapter 21: Cloudeater
↑ The Winter Knights, Chapter 6: The Hall of White Cloud
↑ The Winter Knights, Chapter 8: Treasury Day
↑ The Winter Knights, Chapter 10: Screedius Tollinix
↑ The Winter Knights, Chapter 11: The Hall of High Cloud
↑ The Winter Knights, Chapter 12: The Windcutter
↑ The Winter Knights, Chapter 15: The Sword Miniature
↑ 27.0 27.1 The Winter Knights, Chapter 19: Blood in the Snow
↑ The Winter Knights, Chapter 21: Cloudeater
↑ The Winter Knights, Chapter 22: The Ratbird
↑ Clash of the Sky Galleons, Chapter 2: Glaviel Glynte
↑ Clash of the Sky Galleons, Chapter 8: Galerider
↑ The Stone Pilot, Chapter 6: The Scourge of the Weak
↑ The Immortals, Chapter 28
↑ The Immortals, Chapter 71
↑ 35.00 35.01 35.02 35.03 35.04 35.05 35.06 35.07 35.08 35.09 35.10 35.11 35.12 35.13 35.14 35.15 35.16 35.17 35.18 35.19 35.20 35.21 These dates are accurate, relative to each other, however their positions relative to the rest of the timeline are unknown. The Immortals is known to have taken place around 600

ᴇ.ʏ.

, and all other dates in this range are placed around that.
↑ The Immortals, Chapter 13
↑ 37.0 37.1 The Immortals, Chapter 4
↑ 38.00 38.01 38.02 38.03 38.04 38.05 38.06 38.07 38.08 38.09 38.10 38.11 38.12 Timeline of the Nate and Cade sagas
↑ The Descenders, Chapter 32
↑ The Descenders, Chapter 11
↑ The Immortals, Chapter 1
↑ The Immortals, Chapter 101
↑ The Nameless One, Chapter 26
↑ In Doombringer which takes place in c. 619

ᴇ.ʏ.

, Rampton Gleep says he hasn't seen Thorne for almost 15 years, meaning he didn't leave until c. 604

ᴇ.ʏ.

.
↑ The Nameless One, Chapter 6
↑ The Nameless One, Chapter 41