---
This page was to track our achievements. We achieved all our goals in January 2018! We were only two people when we revived this wiki, but now have more active, motivated contributors and a wider range of people reading this wiki. Thank you all for using this wiki, reading articles or even contributing to this wiki!
---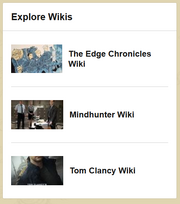 Hi everyone,
Sadly, there are not many people contributing to this wiki. Running this wiki all by ourselves isn't nearly as much fun and much more work than running it as a community.
Over time, we implemented these measures:
The Facebook post about the Community on The Edge Chronicles Official Facebook
The poll on the mainpage (that shows that there are more than two people on this wiki!)
The Help and Chat Time to improve communication and offer a platform to discuss the Edge Chronicles.
We wrote a blog post on Community Central and were awarded a community highlight (find the blog post now as the Introduction.
We activated the Awards and Achievements feature
We got into the Literawiki Footer.
We activated the Discussions feature.
We got a community spotlight in January.