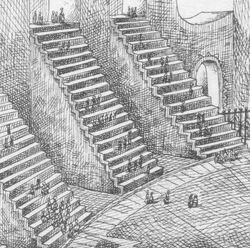 The Viaduct Steps were a series of shallow steps underneath the arches of the Central Viaduct in Sanctaphrax. An unspoken but rigid social and political hierarchy existed in the area, and various groups of Sanctaphrax academics would regularly meet at specific staircases to gossip and plot. It was also a place where tinctures and potions were sold [1].
Places
East Side: 9th Staircase
The ninth set of east facing steps was known as "The Chankers". It was there that the sub-deans of all schools gathered to discuss matters concerning politics, recent events and gossip.[2]
East Side: 18th Staircase
The 18th staircase of the east side was a place for bets and fromp-fights.[3]
West Side: 12th Staircase
The 12th set of stairs on the west side was where apprentices met to exchange papers, solutions and exams.[4]
West Side: 18th Staircase
The 18th staircase of the west side was a speakers corner, but also where rumours and conspiracy theories were told. Common ones were the myth about rats being cooked in the refectory, the scandal of the Moon Observatory, the hushing-up of the disappearance of seven fogprobing apprentices and what the Convocation of Professors on Grey Thursdays really was about.[5]
West Side: 24th Staircase
On the 24th Staircase on the west, sub-acolytes, apprentices and sometimes sub-deans gathered to complain about their professors.[6]
References